With a highly active and dedicated committee and a growing membership, the Cavan Town Branch of Comhaltas is looking forward to a bright and busy future.
The Cavan Town Branch runs regular sessions throughout the year. It organises concerts, céili and set dancing plus tuition in music, song and dance. The Branch also puts on a series of concerts throughout the months of July and August each year in Cavan Crystal Hotel and also The Cavan County Museum in Ballyjamesduff.
New members are particularly welcome. Passing on the tradition of Irish culture is what Comhaltas do. Our informal sessions are one example of this and if you come along you will be treated to a wonderful evening of traditional music and song by children & adults of all ages. The branch runs sessions every Sunday. All musicians, singers and dancers are encouraged to attend.  Those seeking information on traditional music classes, details on sessions or membership should contact the Branch on email cavantowncce44@gmail.com or visit our Facebook page Cavantowncce .
2015 will be a particularly busy year for the branch with the inaugural Ed Reavy Traditional Music Festival taking place from October 15th to 18th incorporating a variety of Concerts, Music Workshops, Fiddle Masterclasses, Set Dancing Workshops, 3 Set Dancing Ceilis, Comhrá Gaeilge Workshops, Historical Exhibitions and talks as well as numerous Sessions. Further information on Facebook EdReavyTradFest – why not visit, Like and Share. You can also e-mail us regarding the Ed Reavy Festival on edreavyfest@gmail.com
The first event of the Ed Reavy Trad Fest took place in Cavan County Museum Ballyjamesduff on Friday May 15th at 7.30pm – a lecture by Dr. Mick Moloney entitled Ed Reavy   His Music   His Influence, which was be followed by a session led by Mick Moloney, Antoin MacGabhann and a number of branch members.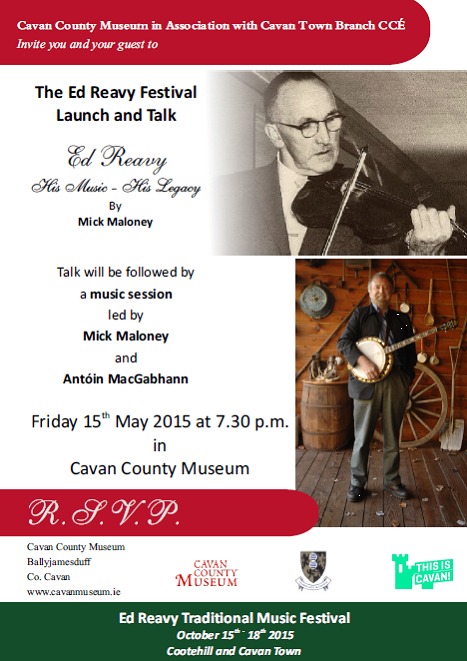 Have a look at our Brochure regarding the October 2015 event or visit The Ed Reavy Tab at the top of the page.